Excellent
5.0
★
★
★
★
★
Based on 315 reviews from
Karin Cunningham
★★★★★
Getting lice was a less than ideal situation, but Lice Charmers in Beaverton really saved the day. Their quick, professional team, and in-home service are highly commendable. Thank you a million times!

Cheryl M.
★★★★★
Lice Charmers deserves a 5+ review. Noticing a family member had lice we ran down to Lice Charmers. Melanie, was calm, professional and very thorough....
Lori Ehle
★★★★★
I can't even begin to tell you how nice it was to find this amazing company and know they dealt with the entire issue! Not to wonder if I got it all myself and for the reassurance they did was a comfort. As much as I hope to never have this issue again, it's great to know they are there if needed!
Heather Friedman
★★★★★
I highly recommend Lice Charmers in Portland for lice removal. We had a home visit and Lexi was thorough with checking and treating. I was given a lot of information and was able to purchase medical -grade lice tools should we have to deal with this in the future.
Megan Crown
★★★★★
Amazing experience visiting Lice Charmers. I found a louse in my hair late Friday afternoon and was able to make an appointment with Lex the next morning. She was extremely patient and gracious as I asked a million questions. Thank you SO MUCH!
Anne Madden
★★★★★
Lex is wonderful! I don't recommend getting lice, but if you do, I recommend getting rid of them at Lice Charmers.Lex is thorough and great with kids. She made the process easy and as pleasant as it could be.
Sarah Reuber
★★★★★
Lex is thorough and kind. This was the second time we had to use the Lice Charmers service and I'm so grateful there is a service like this! It may be expensive but worth every penny to be lice free!!! Highly recommend.
Amy Benton
★★★★★
Organized, timely, informative care. She was thorough and complete. Lice free after 1 visit! Thank you.
Naomi Berg
★★★★★
My 16-year old & I needed a check and were able to schedule the same day we called. Lex & Melanie were very thorough, compassionate, and helped put our minds at ease! I am so grateful for their service & care—especially as a single parent!
Destinie Lachica
★★★★★
This place is so amazing. I was stressed when my daughter had lice and they were so calm and answered all my questions. We called on a Saturday afternoon and she squeezed us in that same day around 5. My daughter went home lice free and with oil to take home. Would defiantly recommend.
Colette Neva
★★★★★
Fast, kind and fantastic service! I wouldn't go anywhere else.
Tamara Wicklund
★★★★★
Lex was great! This is the second time we have used her service and very happy! She did great with my two boys and was able to adjust when one needed a break. Highly recommend her!
Noelle Diaz
★★★★★
Has a great experience here! Called on a weekday about 3:30 hoping to get checks for my family of 5 (including school age and toddler children) and we were able to all be fit in that afternoon/evening. It was our first experience with lice and it was helpful and informative- I feel more confident in the future now knowing what I'm looking for! Would definitely return here for swift, informative service.
Alicia Weller
★★★★★
Had been dealing with lice issues for months and finally decided to look into some professionals. Lice charmers got my daughters booked within 24 hours of calling. The gal who helped us, Lex, was AMAZING! She was thorough with every step and super patient with us. Would 10 out of 10 recommend!!
Kathryn Reeves
★★★★★
My daughter is boarding in Oregon and discovered she had gotten lice from somewhere. She went to Lice Charmers and Lex took AMAZING care of her. Despite my daughter having incredibly long hair thick hair, Lex really took the time for a thorough treatment. And despite the fact that I am in another state, I was able to talk with Lex about care and follow up and any and all questions I had about lice. She was so nice and gave amazing tips and advice on the matter. She didn't brush me off or try to get off the phone. I talked with her for at least 20 minutes and she even helped me with questions on what to do and check for in our home and with my other kids, despite the fact that we are all on the other side of the USA. I'm so relieved that we had someone like her to care for my daughter away-from-home.
Need Professional Head Lice Treatment Service Near Me?
Finding professional lice treatment in Washougal, WA can be difficult. The first, best step is searching for "lice removal near me" and browsing the listings. Any lice services with good reviews should be worth calling. Find out what their treatment method is, how long it might take, if any aftercare is required, and if they offer a guarantee, what you need to do to qualify for it. In-home services may be the best option if there isn't a lice place near you and you aren't interested in traveling and spending the hours required for treatment in a public facility.
Mobile, In-Home, Head Lice Removal Clinic
Head lice removal is now available in the Washougal area. Lice Charmers in-home service gets rid of lice and their eggs in a single session without pesticides and doesn't require any self-combing or aftercare. After speaking with one of our experts to schedule an appointment that fits around your work and school schedule, your lice technician will text you 30 minutes before she arrives. Treatment always starts with checking everyone and sharing the evidence of what is found. Once checks are completed you'll know who has it and who doesn't and how long treatment will take. During treatment, your technician will share how to take care of the home and what you can do to prevent reinfestation, as well as answer any and all of your lice related questions.
Washougal, Washington
The Clark County city of Washougal is located in Washington State. It's known as the Pacific Northwest's "Crossroads of Discovery" and is found on the Columbia River's Washington Side.
According to the 2010 national census, it has 14,095 inhabitants. On December 4, 1908, Washougal underwent incorporation.
Washington's oldest grange hall that's still continually used, the Mount Pleasant Grange Hall, is located in Washougal as well.
Britain sailor Richard Ough and his family founded Washougal or Washougally Camp, as it was then known. The settlement was founded on the family's original claim of the land, and among the first citizens of the community, the Oughs were generous in distributing money and food.
According to the Census Bureau, Washougal is made up of 0.88 square miles of water and 14.04 square kilometers or 5.42 square miles of land, thus giving it a total territorial area of 16.32 square kilometers or 6.30 square miles.
The Washougal River runs through the city for good measure because it's also located in the scenic Columbia River Gorge as well.
And it's grand prairie and lowlands are positioned at the Gorge's western entrance. Drivers heading towards Washougal from the west can view Mount Hood rise above the Cascade Mountains as they move along the Lewis & Clark Highway.
As they approach Gorge's gateway, the Cascade Mountains' cliffs serve as columns or pillars to the mouth of the entrance.
Washougal High and Excelsior High are the city's high schools.
In Washougal, there's hiking and tours at the Steigerwald Lake Wildlife Refuge, beachside fun at Cottonwood Beach, outdoor recreation at the Captain William Clark Park, and fishing and hiking at the placid Round Lake.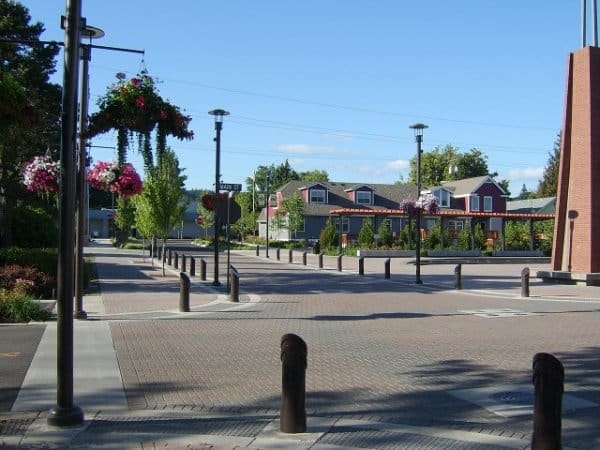 Other Nearby Washington Areas Served