Professional Lice Removal & Treatment in Canby, OR 
Save time – We come to your home.
No pesticides, no aftercare, no second appointments.
Guaranteed for 30 days or we re-treat for free.
HSA & FSA payments accepted.
I called as soon as I heard about this company! They were very helpful in answering any questions I had. They conveniently traveled to our home. Not only was Lex quick and efficient she was educational and gave us piece of mind. By the time she

...

left... We were lice free:) I'd highly recommend Lice Charmers!!!

read more

We discovered lice on a family member, and immediately knew we needed a Leo to completely rid of them ASAP! We called Lice Charmers, and Lex was in our home within the hour! She completely got rid of all lice in two members of the family. She

...

searched a few others, which were in the clear. She was very easy to talk with and very professional! Highly recommend if you live in the Portland metro area.

read more

Lex saved us again! She is the BEST! Very prompt, gentle and kind! Our kids love her and I feel safe knowing I can count on her in such a stressful situation. She was able to see the same day I called for treatment and she drove to Gresham to help

...

out family. Thank you so much!

read more

No one wants to hear their child say, "I think I have lice!" But when it happens I highly recommend calling Lice Charmers! After a simple google search Saturday (@ 5:00pm) for lice treatment near us I found Lice Charmers & spoke with Lex on the

...

phone. She was able to come to our home in Lake Oswego the next morning & check/treat the entire family. Quick, efficient, thorough. My family is so thankful to have found Lice Charmers.

read more

We had a great experience with Lice Charmers and would highly recommend them for anyone dealing with a possible infestation. Very professional, experienced, fast, and efficient. They definitely know what they're doing and are great with all kinds of

...

kids!

read more

Lice Charmers got me in quickly and only charged for the time they spent with me. The service was super friendly and informative also.

When the after care program at my son's school sent an email home about lice being present on another student, I was nervous that my kids had it. I'd heard so many tales of woe around lice from my friends and didn't want to risk multiple rounds of

...

infestation. I wanted a professional opinion. I called Lice Charmers and spoke to Lex. She was able to see us all the same day at their SE private clinic. Prior to our appointment, she gave me advice on how to treat our home and the protocol for informing close friends and school, if necessary. When we arrived for our appointment, Lex was friendly, informative and professional. She was able to examine all three of us without causing any discomfort and in a short amount of time. It turns out that is was a false alarm but I am so glad that we went to an expert to alleviate my worries and be on the safe side. If we ever do experience a lice outbreak, I will 100% give Lex and Lice Charmers a call. I've already told my friends and coworkers about our awesome experience.

read more

Professional Head Lice Treatment Service Near Me
In home lice treatment is the best answer when you are searching for "lice removal near me" in Canby, Oregon. The attention from a dedicated professional ensures your family will leave lice in the past. Lice treatment is tough. Especially when it's your first time dealing with head lice and you're not sure what to do about it. Many of our previous clients have jumped through the hoops of lice kits, home remedies, and manually combing it out themselves before learning that lice removal could be both affordable and convenient.
Mobile, In-Home, Head Lice Removal Clinic
The newest way to treat head lice is by hiring a professional, in-home service. Get rid of all the lice and lice eggs in a single appointment. The lice kits, home remedies, and prescriptions don't back up their method with a guarantee and can still leave you right back where you started. Our guarantee is to get you lice free and keep you that way for 30 days. If you find out you have head lice again, we will come back to your home and get rid of them for free. There is no lice clinic or salon that offers that level service. We work with your schedule to keep you life on track when lice strike.
Canby, Oregon
Part of Clackamas County, Canby, OR has—according to the U.S. national census for 2010—about 15,829 inhabitants. It is found adjacent to Oregon Route 99E, specifically about 3 kilometers of 2 miles off of Barlow's northeastern portion. Canby got its name from a Civil War general named Edward Richard Sprigg Canby. General Canby was killed in the line of duty by Captain Jack and his army. The population of Canby is 15,829 according to the 2010 national census.
The settlement was established in 1857 at the area called Baker Prairie. In 1870, Canby got platted then incorporated on February 15, 1893, by the Oregon Legislative Assembly.
As for it claims to fame, on the TV series 20/20, Canby was featured on a May 2016 episode of the show. A "psychic" living in Canby was investigated by the show for racketeering and fooling a Canby ranch owner with a scam for the sum of $15 million.
The U.S. Census Bureau claims Canby is 9.82 square kilometers or 3.79 square miles large in terms of its entire territory. Of that amount, a total of 0.10 square kilometers or 0.04 square miles is water, and 9.21 square kilometers or 3.75 square miles is the landmass. When you enter South Canby, you'll go past Aurora, a historical community. As for those going via North Canby, visitors will instead pass over the Willamette River. There's also the Molalla River that goes through the western and southern borders of Canby.
Activities you can partake while in Canby include some park and garden action at both Canby Pond and its twin sister, the Wait City Park. There's also the fishing and boating spot that doubles as a bio-diverse nature trail known as the Molalla River State Park. These outdoor activities and more are also available to you when you instead visit the state park known as the Canby Community (River) Park.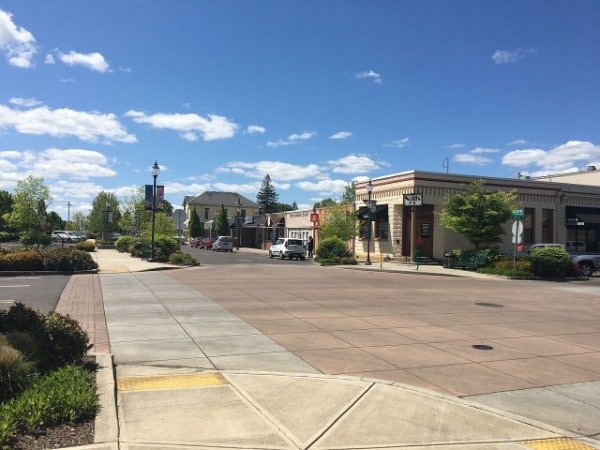 Portland Areas We Serve