Lice Clinic Treatment Reviews
Completely private.
Logo-free vehicles and no uniforms.
Appointments that fit your schedule.
In the comfort or home or our private clinic.
A 30-day guarantee keeps you lice free.
Professional Head Lice Treatment Service Near Me
Head lice treatment can be a confusing mess of options for families trying to solve a problem that is plaguing schools in the Happy Valley area. There is one option guaranteed to work and won't require you to rearrange your life to fit in four hours in a lice salon waiting for your turn in a crowded lobby. In-home, professional level lice removal eliminates the problem and Lice Charmer's guarantee's you'll all stay lice free for 30 days or we will fix it again for free. Stay home, watch a movie, make dinner, or just enjoy time with your family while we provide the full attention to your family getting rid of lice for good. We work after hours to make it easy for you.
Enjoy your time at home in Happy Valley, Oregon with comfortable and effective mobile lice clinic results. You know you picked well when you speak to a professional that provides you with all the knowledge and guidance you didn't know you needed to get lice free and stay that way. In one appointment, we get rid of lice for good. The anxiety and stress a lice infestation can cause can be solved quickly and safely. All family members are checked for lice and lice eggs, treated if they need it, and guaranteed for 30 days.
Happy Valley, Oregon
The curiously named Happy Valley, OR is part of Clackamas County in the U.S.A. 13,903 people according to the national census in 2010 in the same year. Originally named Christilla Valley, after the first residents of Happy Valley Matilda and Christian Deardorff, the city was about 2.6 square kilometers or 640 acres of land when the Deardorffs arrived back in 1851 and claimed it.
It was in 1965 that Happy Valley underwent incorporation. Throughout the decades, it remained a small town. However, that all changed in the 1990s, where it was among the fastest-growing cities in Clackamas County and Oregon State. It grew from a couple of hundred people to 4,519 people according to the 2000 Census and then 13,903 people in the 2010 Census. Tom Ellis is the mayor of Happy Valley, who's joined by four members of the city council.
A Planning Commission also exists alongside the Citizen Traffic and Public Safety Committee and the Park Advisory or Urban Forestry Commission. Geography-wise, the city is divided by 0.10 square kilometers or 0.04 square miles of water and 21.45 square kilometers or 8.28 square miles of land. This makes about 21.55 square kilometers or 8.32 square miles of total territorial area for the ever-growing city valley.
It's part of the metropolitan area of Portland, with its bordering Sunnyside, Pleasant Valley, Damascus, Clackamas, and Portland. Happy Valley's highest point of 320 meters or 1,050 feet is at the Boring Lava Field's Mount Scott, which is an extinct or inactive volcano. Another prominent geographical part of the valley is Scouters Mountain.
As for the things you can do in Happy Valley, at the Happy Valley Park, you can play sports at the sports field or attend live music series of concerts. You can also find various attractions, pools, and slides at the North Clackamas Aquatic Park. You can even indulge yourself with rustic or paved trails at the forest oasis known as Mount Talbert Nature Park. Finally, the Leach Botanical Garden is a tranquil estate that's home to more than 2,000 plant species.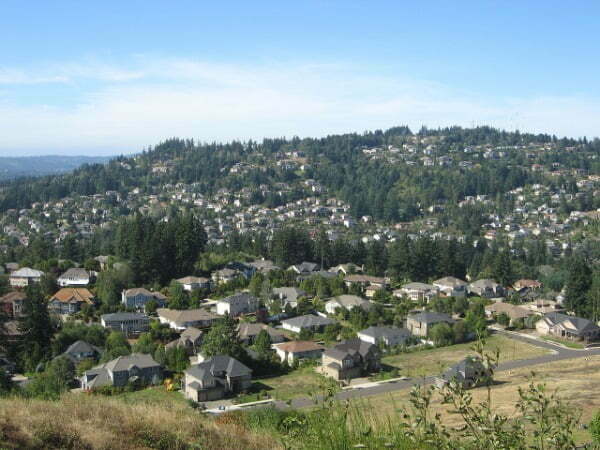 Portland Areas We Served