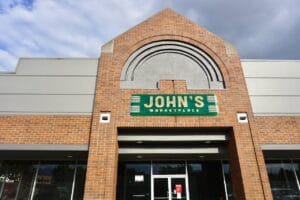 John's Marketplace
John's Marketplace is a retail establishment located in the Multnomah Boulevard neighborhood of Portland, Oregon. On paper, this place could be described as a convenience store. However, ask anyone who has visited, and they will tell you that John's Marketplace is so much more than just a convenience store. They are one of Portland's leading outlets for your supply of entertaining alcoholic beverages. Established in 1999, John's Marketplace has become a "Portland's Beer and Wine Mecca," and part of the reason for this is because of their out-of-the-box approach to adult beverages. They aren't just a convenience store, but they aren't just a liquor store either. Here are some factors about this outlet that make it truly unique and an asset to the City of Roses.
The Best Beer in a Town Known For Beer
Ask any Portland local, and they will tell you that this city has long been known for the beer they produce. Even though their main nickname has always been The City of Roses, a popular secondary nickname for Portland is "Beervana" (1) because of the litany of craft beers distributed throughout the area. This is absolutely where John's Marketplace comes in. Put, they are known for their beer, with a prominent slogan being, "If we can get it [beer] here in Oregon, then we have it!" (2) Of course, the other dominant question you might have would be, "Well, what if I don't necessarily want a local beer? What if I want an international beer that might be hard to find here in the States?" John's Marketplace has you covered there, too. They carry several rare world beers and American beers in stock. They have an extremely knowledgeable staff, so all you have to do is call them or ask them in person about any specific beer brand you might be looking for.
Exceptional Kegs
If you have a favorite beer, then there are times where you might want to stock up on it. In that case, there is no better way to do that than to purchase a keg. John's Marketplace has you covered here as well because they have a substantial inventory of kegs available for sale. There are presently over 400 entries in their coveted "Kegs 2 Go" section, and the best part of it might be that it's searchable as well. They keep this section as organized as possible, dividing it up into sections of either "In Stock" or "Pre-Order." Since all keg sales are final, they also include a handy "how much beer do I need…?" guide to help you better evaluate your needs. (3)
A Remarkable Wine Experience
For centuries now, there's just been something about wine that has captivated millions of people the world over. I would know, mainly because I had a full-blooded Italian uncle who bought a vineyard when he retired! But I digress. Perhaps another advantage of John's Marketplace would have to be their fabulous selection of wines. When you couple this with the fact they have regular wine tasting, you can still get completely lost with the variety of this store without even thinking about their beer selection.
Satisfying Taps Options
The beer is always on tap at this marketplace as well. They still have a fully stocked bar, and they have many unique offerings. These would include things such as the Jefferson Dry Apple Outlaw, the Chapman Happy Dance, the Wayfinder Time Spiral, the Solo Expedition Urban Family, and many more.
Unique Eats
The icing on the cake would have to be the excellent grub they serve to go along with your beer or wine selections. Their deli is open from 10 A.M to 8 P.M. Monday to Saturday and 8 A.M. to 5 P.M. on Sunday. They serve a variety of mouth-watering sandwiches, so think what fun you'll have munching on a sub that would rival any NYC deli and washing it down with your favorite beer.
Excellent Events
To top it all off, John's Marketplace seems to have written the book on great beer and wine events. They host their version of Oktoberfest, but they don't stop there. They also have gatherings such as The Church of Beer, The Two Birds Ice Cream (offering boozy ice cream selections), and weekly wine tastings every Friday and Saturday. They also have regular visits from local breweries and vineyards. (4)
With a selection like this, it's no wonder John's Marketplace has developed such a unique and well-deserved reputation. No visit to Portland is complete without stopping at this exclusive beer and wine retail outlet!
Resources
Lice Charmers does Lice Removal and Lice Treament in Beaverton Oregon
Lice Charmers Lice Removal and Lice Treatment in Beaverton OR